AndBeyond.Media Making Waves with Marriott's 3.3 Million Impressions Awareness Campaign
Introduction
The Marriott Bonvoy program stands tall as one of the world's largest hotel rewards programs, encompassing an impressive portfolio of 30 brands across diverse price points. From budget-friendly accommodations to luxurious getaways, the Bonvoy program allows travelers to earn and redeem points for stays at renowned Bonvoy brands such as The Ritz-Carlton, St. Regis, JW Marriott, Sheraton, Westin, and Renaissance Hotels, among others.
While the sheer scale of the program might initially seem overwhelming, Marriott has skillfully streamlined the Bonvoy experience, making it accessible and rewarding for all. With a straightforward path to earning points and achieving elite status, Marriott Bonvoy paves the way for unforgettable stays and unparalleled travel experiences across the globe.
Challenge
With numerous hotel chains and loyalty programs vying for attention, standing out and capturing the interest of potential customers becomes a considerable challenge. Effectively communicating the extensive benefits and value of the loyalty program without overwhelming the audience with complexity requires a delicate balance.
In such a crowded space, fostering awareness about the loyalty program and enticing long-term customer engagement demands a well-thought-out and innovative approach. With AndBeyond.Media, Marriott Bonvoy navigated these obstacles and successfully penetrated the market, and established itself as a top choice among discerning travelers.
Solution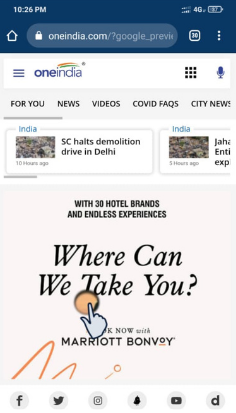 In a strategic endeavor to tackle the distinctive challenges of the competitive Indian market, AndBeyond.Media kept some notes at the core fo the campaign.
Prioritized personalization and simplicity.
Captivated the precise audience.
Created tailored messages that deeply resonated with their unique interests and behaviors.
By conducting meticulous analysis of audience data, AndBeyond.Media derived at the following audience persona.
Male demographic, aged between 25 to 45 years
Predominantly residing in metropolitan cities
Users that exhibited a fervent interest in indulging in luxurious travel experiences
High Net Worth Individuals (HNIs)
Frequent flyers from First and Business Class, luxury shoppers
Patrons of 4 to 5-star hotels.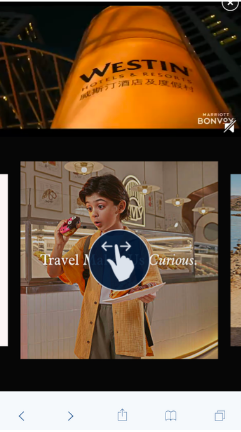 To make an indelible impact, the adept team at AndBeyond.Media harnessed the potential of rich media ads – aesthetically captivating and user-driven interactive banners across Desktop and Mobile platforms. Employing premium inventories across esteemed English and Top Regional publishers, the campaign effortlessly weaved its captivating narrative, enthralling the audience and leaving a lasting impression.
Campaign Impact
The campaign garnered an impressive 3.3 million impressions, reaching a vast audience across various platforms.
The average click-through rate (CTR) stood at an impressive 0.94%, reflecting the campaign's effectiveness in driving user interaction.
User engagement soared beyond 10%, indicating that the captivating content successfully engaged and resonated with the audience, leading to increased interest and participation.