Breaking Through to Gen Z: Harnessing Gamified Ads for Success
Introduction
Eeken by Paragon, breaks free from conventional norms to embrace the cool and adrenaline-fueled lifestyle of the Gen Z generation. Born with a mission to empower the Indian youth, Eeken offers a diverse range of footwear that perfectly complements their spontaneous and adventurous spirits.
With the new collection #WeekendEveryday, Eeken aims to elevate the daily adventures of its consumers. As a brand that understands and embodies the vibrant spirit of the younger demographic, Eeken aims to become the go-to choice for those seeking a perfect blend of comfort, style, and self-expression with their new collection.
Challenge
Eeken faced the challenge of breaking through the clutter in the footwear market and connecting with Gen Z, a digitally savvy audience. The brand needed to establish a strong presence while highlighting its latest product line, "Weekend Everyday, designed to infuse everyday moments with a stylish and adventurous vibe. The challenge lay in crafting a campaign that would authentically capture the spirit of Gen Z, driving awareness and engagement.
Solution
AndBeyond.Media partnered with Dentsu India to devise an innovative solution that would effectively tap into the pulse of the Gen Z audience. They incorporate gamified ad formats in their campaign and it significantly impacted user engagement it utilizing interactive ad journeys and personalization.
Recognizing the dynamic and tech-savvy nature of this demographic, AndBeyond.media prioritized the gamified approach.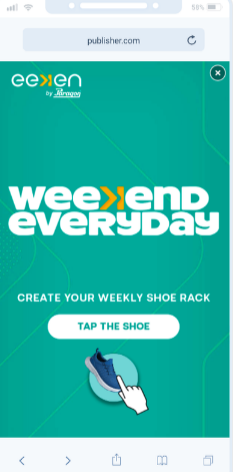 It captivated their attention and created an immersive ad experience.
It resonated well with Gen Z as it was interactive and entertaining. 
It transformed the ad journey into a stimulating and enjoyable experience.
Going beyond the traditional marketing approach, gamified ads by AndBeyond.Media resonated exceptionally well with Gen Z . It tapped into the natural inclination for exploration and adventure of the audience.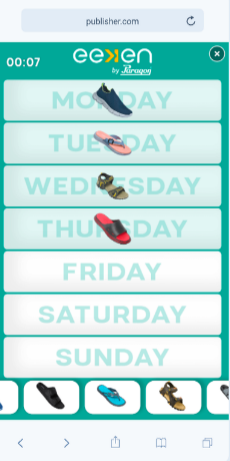 The ad journey commenced with users creating their personalized weekly shoe rack with the latest Eeken summer collection. They could swipe through various footwear styles and place them against each day of the week, resulting in unique shoe racks tailored to individual styles.
Campaign Impact
AndBeyond.Media understood the preferences and interests of the audience, which ensured the campaign reached the youth with relevant content, generating maximum impact.
Impressions: The campaign garnered an impressive 3.7 million impressions within a span of 2 weeks, effectively reaching a vast audience.
Average Engagement Time: The ad held the audience's attention for an average of 9 seconds, showcasing the captivating nature of the ad journey.
Engagement Rate: The campaign achieved an impressive engagement rate of 13%, showcasing the success of AndBeyond.Media's creative and personalized approach.
Click-Through Rate (CTR): With a remarkable CTR of 2.35%, the campaign garnered 11 times more engagement than the industry standard, solidifying its impact.